PROIECTE 2015
Journey into Finance – Schimb de tineri – Erasmus plus- K1 Youth Mobility
Plecand de le experienta persoanelor care au fondat asociatia, DAR DEVELOPMENT ASSOCIATION si-a propus ca obiectiv strategic sa devina recunoscuta pentru programe nonformale privind domeniul financiar.
Proiectul nostru Journey into Finance – Calatorie in lumea Financiara, finantat prin Programus Erasmus Plus la runda a 3 din 2014, s-a desfasurat intre 25 februarie 2015 si 25 februarie 2016.
Partenerii DAR DEVELOPMENT ASSOCIATION in acest proiect au fost Asocoatia Stowarzyszenie Promocji Zdrowia i Profilaktyki "HOPP" din Polonia , Asociatia Narodno Chilalishte "Nikola Vasilev Rakitin 1890" din Bulgaria, Asociatia Erbaa Egitim ve Yardimlasma Dernegi din Turcia si Asociatia EURO –NET din Italia grupul informal de tineri RAPLECTION din Croatia.
Ziua 1
Welcome participants! -" Know each other " activities / Bine ati venit , participanti!-Activitati de tipul "Sa ne cunoastem mai bine "
Introduction in nonformal education / Introducere in educatia nonformala
Ziua 2
Official Opening - We are officially welcoming our participants and starting the project / Deschiderea Oficiala - Ne intampinam oficial participantii si incepem proiectul
Presentations of the organisations-Real or imaginary, the participants present their organisations / Prezentarile organizatiilor-Participantii isi prezinta oganizatiile reale si imaginare
Show me your currency - Devided in national teams the participants present their national currencies / Arata-mi moneda ta nationala - Impartiti in grupuri nationale, participantii isi prezinta moneda tarii lor
The Exchange House / Casa de schimb
The Romanian Intercultural Evening - The Romanian participants present their national traditions to the other participants / Seara Interculturala Romana-Participantii romani isi prezinta traditiile
Ziua 3
The ERASMUS PLUS Programe - The participants share their knowledge regarding the ERASMUL PLUS Programe / Programul ERASMUS PLUS - Participantii isi impartasesc cunostintele deprespre Programul ERASMUS PLUS
What luxury means for you?-The participants made presenations on different themes regarding luxury / Ce inseamna luxul?-Participantii au realizat pezenari pe diverse teme despe lux
International Monopoly - The participants played Monopoly with pictures from their countries / Monopoly pe orase - Participantii au jucat Monopoly unde casutele erau poze ale oraselor tarilor participante
Deluxe party / Petrecere de lux
Ziua 4
Family budget-The participants disscused how the family budget is usually divided in their country / Bugetul familiei-Participantii au discutat despre cum este impartit bugetul familiei in tara lor
Visit to Targoviste- The participants made a trip to Targoviste , where they asked people about their own budget / Vizita in Targoviste-Participantii au facut o excursie in Targoviste unde au discutat cu diversi oameni despre bugetul lor
The Intercultural Polish Evening / Seara Interculturala Poloneza
Ziua 5
Brand your enterprise - The participants designed their companies / Construieste-ti intreprinderea-Participantii au facut schitele viitoarelor companii
A Gift From An Unknown Friend / Un Cadou De La Un Prieten Necunoscut
Ziua 6
Bucharest Trip - The participants visit some of Bucharest's landmarks / Excursie in Bucuresti - Participantii viziteaza cateva din cele mai importante locuri din Bucuresti
Ziua 7
The portret of the entrepreneur - The participants discus about the abilitie and knowledges an entrepreneur should have / Portretul antreprenorului-Participantii dicuta despre care ar trebui sa fie abilitatile si cunostintele unui antreprenor
Who is the entrepreneur ?- The participants identify the qualities of an entrepreneur / Cine este antreprenorul?- Participantii discuta despre calitatile unui antreprenor
The Turkish Intercultural Evening / Seara Interculturala Turceasca
Ziua 8
Brand your enterprise-The participants create the mission and the vision of their companies / Schiteaza-ti compania-Participantii creeaza misiunea si viziunea companiei
A little accounting exercise will not hurt / Putina contabilitate nu strica
The Italian Intercultural Evening / Seara Interculturala Italiana
Ziua 9
Volunteering - The participants learn about the benefits of volunteering / Voluntariatul - Participantii invata despre beneficiile voluntariatului
Money Free Zone - The participants discuss about free time activities that they enjoy and where they don't spend money / Zona fara bani - Participantii discuta despre activitati de care se bucura desi nu cheltuiesc bani
The Bulgarian Intercultural Evening / Seara Interculturala Bulgara
Ziua 10
Corporate Social Responsability / Responsabilitatea sociala a unei companii
Visit to a multinational- The participants visited the Renault Tehnological Centre , where they discussed about CSR / Vizita intr-o companie-Participantii au vizitat Centrul Tehnic Renault si au discutat despre responsabilitate sociala
The Croatian Intercultural Evening / Seara Interculturala Croata
Ziua 11
Youth passes - The participants filled in their Youth passes / Youth pass-uri - Participantii si-au completat Youth pass-urile
Ziua 12
Imagini si documente - 70 de ani de peisaj industrial
Proiectul cultural a fost finantat de Ministerul culturii prin Administratia Fondului Cultural National si s-a desfăşurat in perioada 15 06 - 20 11 2015
Scopul proiectului a fost realizarea de catre tineri artisti debutanti, studenti ai Universitatii de Arta Bucuresti a unei expozitii de fotografie-document care sa puna in valoare calitatea estetica a unor peisaje industriale create in era comunista. In 2015 s-au implinit 70 de ani de la terminarea celui de al II lea razboi si inceputul extinderii comunismului in Europa de Est. Proiectul si-a propus sa sprijine tinerii pentru afla mai multe despre aspecte de zi cu zi ale erei comuniste prin realizarea unei expozitii itinerante de fotografie care sa prezinte imaginea unor zone industriale din toate cele sapte zone de dezvoltare ale tarii si Republica Moldova aratand valoarea lor estetică prin imagini artistice realizate de tineri studenti la Arte Vizuale in cadrul Universitatii de Arta Bucuresti, partenerul nostru in acest proiect.
Prezentarea proiectului la UNARTE - iunie 2015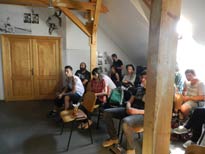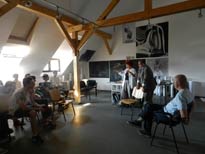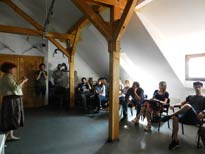 Lansare Libraria Carturesti Verona - octombrie 2015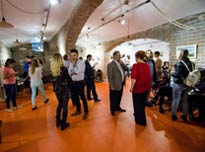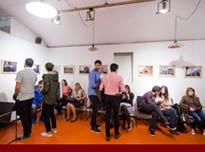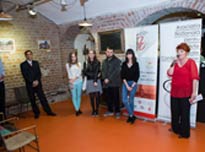 Descopera istoria de langa tine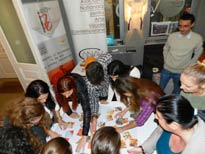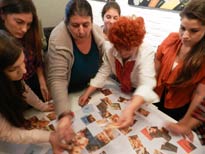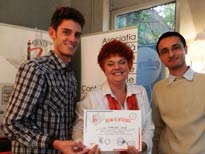 Prezentarea proiectului la Liceul IC Vissarion Titu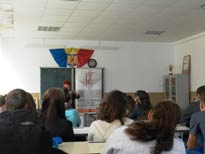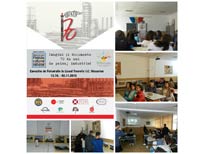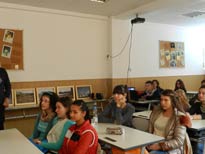 Prezentarea proiectului la Arhivele Nationale din Alba Iulia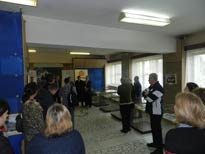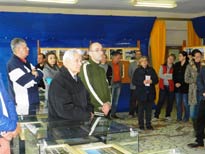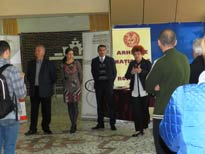 Prezentarea proiectului la Arhivele Nationale din Cluj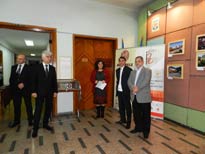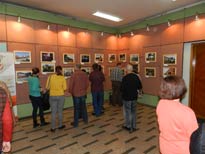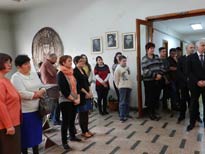 Prezentarea proiectului la Satu Mare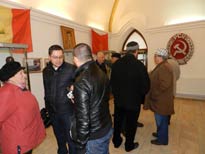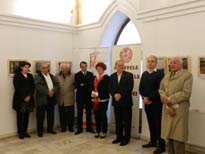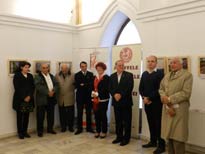 Prezentarea proiectului la Iasi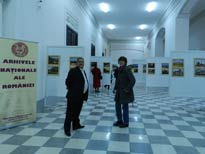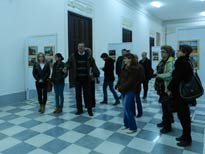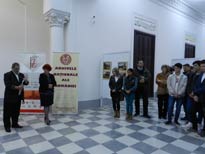 Prezentarea proiectului la Chisinau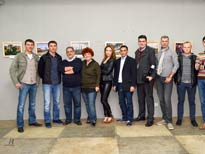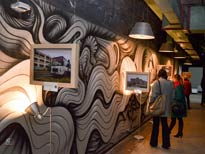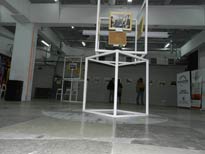 Prezentarea proiectului la Targul de carte de la Istanbul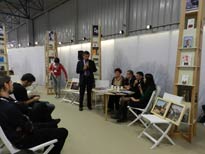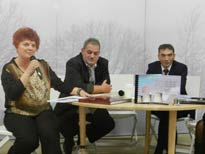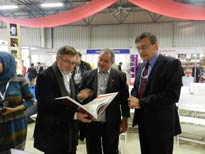 Parteneri si asociati
1.Asociatia DAR DEVELOPMENT ASSOCIATION - Alexandra Corina Brutaru - www.darassociation.org - alexandra.brutaru@dardevelopment.ro
2.Arhivele Nationale ale Romaniei - Ioan Dragan - www.arhivenationale.ro - secretariat.an@mai.gov.ro
3.Universitatea Nationala de Arte Bucuresti - Prof.univ.dr.Cătălin Bălescu - www.unarte.org - fadd@unarte.org
4.Institutul Cultural Roman - Lilian Zamfiroiu - www.icr.ro - cristian.petcu@icr.ro
5.Asociatia VEGA - Ovidiu Podariu - acvega@gmail.com
6.Asociatia XANDER - Ioana Mustetiu - axade2010@gmail.com
7.Asociatia Obsteasca Foto Club Moldova - Roman Statnic - moldova.foto@gmail.com
8.Asociatia ARTIA - Maria Dumitriu Adela - www.facebook.com/asociatia.artia - asociatia.artia@gmail.com

Echipa de proiect
1.Asociatia DAR DEVELOPMENT ASSOCIATION
Alexandra Corina Brutaru - Manager de Proiect
Olivia Andreea Raileanu - Asistent Manager de Proiect
Cristian Birsan Responsabil - logistica & achizitii
Adriana Valentina Tran - Responsabil comunicare PR
2.Arhivele Nationale ale Romaniei
Claudiu Victor Turcitu - Responsabil Operatiuni Arhivistice
3.Asociatia ARTIA
Adela Maria Dumitriu - Responsabil artistic